Friday, November 13, 2020
New Employee Value Proposition launched to further support RSA Canada employees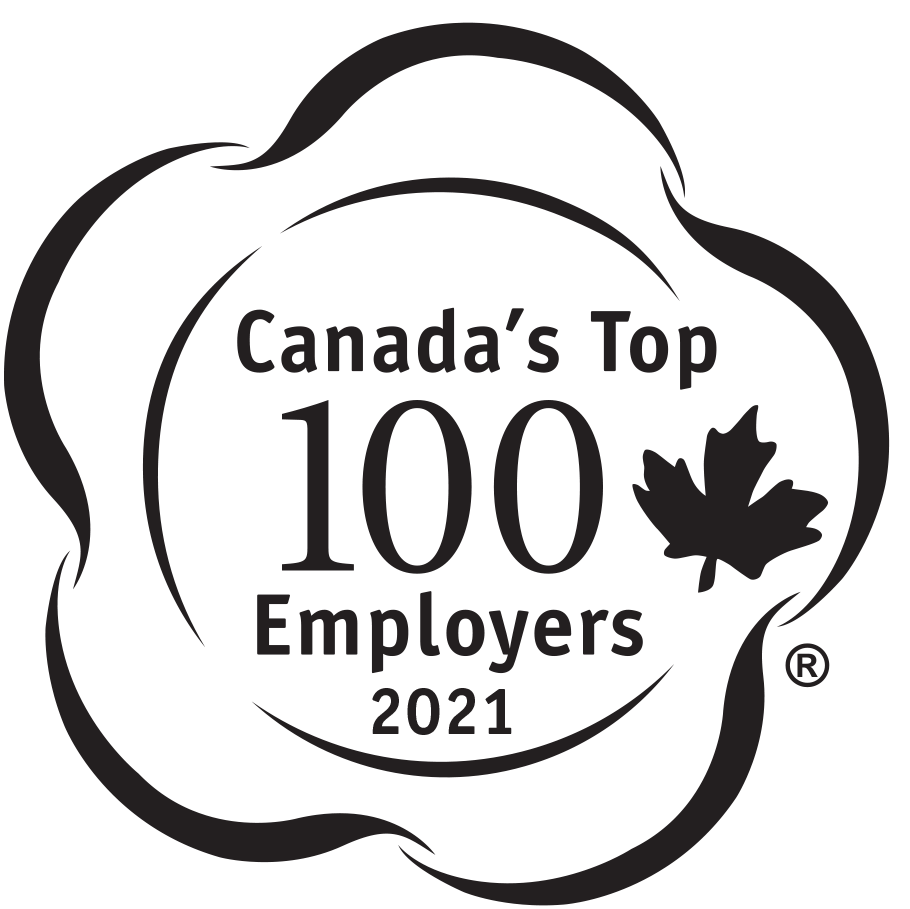 Toronto, Nov. 13, 2020 – RSA Canada has been selected as one of Canada's Top 100 Employers for 2021. The prestigious accomplishment recognizes RSA Canada's commitment to its culture, where people can grow, feel supported, and become their best selves. This year, the awards also honour workplaces that have innovated to support employees and give back to the community during the pandemic.
"This achievement is a testament to our ongoing commitment to be a best-in-class business for employees, customers, and shareholders," says Martin Thompson, President and CEO, RSA Canada. "I'm extremely proud of our people, the efforts they make every day to advancing our industry, and to their unwavering commitment to our customers, particularly throughout the ongoing pandemic."
The competition, held by Mediacorp Canada, acknowledges the efforts by employers to implement exceptional human resources programs and forward-thinking workplace policies that make life better for their people. This year, it also highlights a strong theme of companies supporting employees throughout the pandemic and extending that support to the communities they call home.
RSA Canada was awarded based on its work in eight different criteria: Physical Workplace; Work Atmosphere and Social; Health, Financial & Family Benefits; Vacation & Time Off; Employee Communications; Performance Management; Training & Skills Development; and Community Involvement.
"We've worked very hard to create a culture where people from a variety of different backgrounds can grow professionally and personally," says Anne Berend, Senior Vice President and Chief Human Resources Officer, RSA Canada. "Thanks to our amazing team, we are helping to improve the lives of our customers, and each other."
Throughout the pandemic, RSA Canada has supported its employees to work safely from home through investments in technology, the creation of digital resources and ongoing, transparent communication. The company has also supported the communities where it works by providing financial relief estimated at $75 million in savings for personal and commercial insurance customers, and support for the most vulnerable Canadians through a $100,000 donation to Food Banks Canada. 
RSA Canada introduces its new Employee Value Proposition
Further advancing its employee culture of growth and opportunity, RSA Canada has recently introduced a new Employee Value Proposition (EVP) named Ambition to Lead Our Tomorrow. The EVP outlines what makes RSA Canada unique, along with the reciprocating actions between the company and its employees that drive personal and organizational success.
The EVP comes to life through five core pillars and values which help guide the organization's leadership and employees in everything they do:
Lead to Learn – Developing our people so they can be their best;
Own Your Path – Always getting better to drive performance with pace;
Keep Our Commitments – Keeping commitments to our customers, communities, shareholders and each other;
Talk with Transparency – Trust and transparency in everything we do;  
Collaborate and connect – Collaboration and inclusion where everyone matters.  
"The EVP empowers our employees to be ambitious and take ownership of their development and the future. We believe that it will continue to foster a culture of collaboration and continuous improvement that will ultimately help both RSA Canada and our people to succeed," says Berend.
Full details on Canada's Top 100 Employers for 2021 can be found in the Canada's Top 100 Employers announcement and more information on RSA Canada's EVP can be found on the RSA Canada website.
About RSA Canada
The RSA Canada group of companies includes Roins Financial Services Limited, Royal & Sun Alliance Insurance Company of Canada, Quebec Assurance Company, Johnson Inc., Unifund Assurance Company, Western Assurance Company, Ascentus Insurance Ltd., Canadian Northern Shield Insurance Company and RSA Travel Insurance Inc. (collectively, "RSA Canada") and is part of a group of companies headed by RSA Insurance Group Plc. RSA Canada employs more than 2,900 people across Canada and is one of the oldest insurance companies in the country with roots dating back to 1833.