Climate Change and Flooding
According to a report by the Global Commission on Adaptation, "we're seeing a 36% increase in frequency of rainfall extremes overland, globally… Tomorrow's storms will overwhelm stormwater systems, send rivers spilling over their banks, trigger landslides, and wash away entire communities, increasing flood risks for fully half of the planet's population."
Canada is no exception.
Increased rates of flooding across the country are affecting individual homeowners, communities, cities and provinces. The shifts have also deeply affected the insurance industry, where national catastrophes are becoming more commonplace and flood-related claims continue to rise.
We all have a role to play in protecting the environment, which is why we've partnered with WWF-Canada to help people get ahead of the risks by building climate resilient communities.
The Need for Education
WWF-Canada and RSA Canada conducted a joint study to explore Canadian attitudes on flooding. The findings uncovered that there are growing concerns among Canadians, but flood knowledge remains low.
The St. John River Watershed
Communities across Canada have experienced an increased frequency and intensity of rain and wind events due to climate change, leading to flooding, damaging homes, businesses and public infrastructure. Municipalities in the St. John River (SJR) watershed are a prime illustration of the impact of flooding.
Through RSA Canada's support and funding, WWF-Canada is working to collaborate with community partners to assess vulnerabilities and develop adaptation plans that include restoring ecosystems and building natural infrastructure. The work is an example of how successfully partnering with government, industry and local communities can develop solutions that work for all.
The partnership's long-term goal is to share these learnings and replicate the approach in other at-risk communities across Canada.
For more on WWF-Canada's work in the St. John River watershed, visit their website:
http://www.wwf.ca/conservation/freshwater/the_st_john_river/
INFOGRAPHIC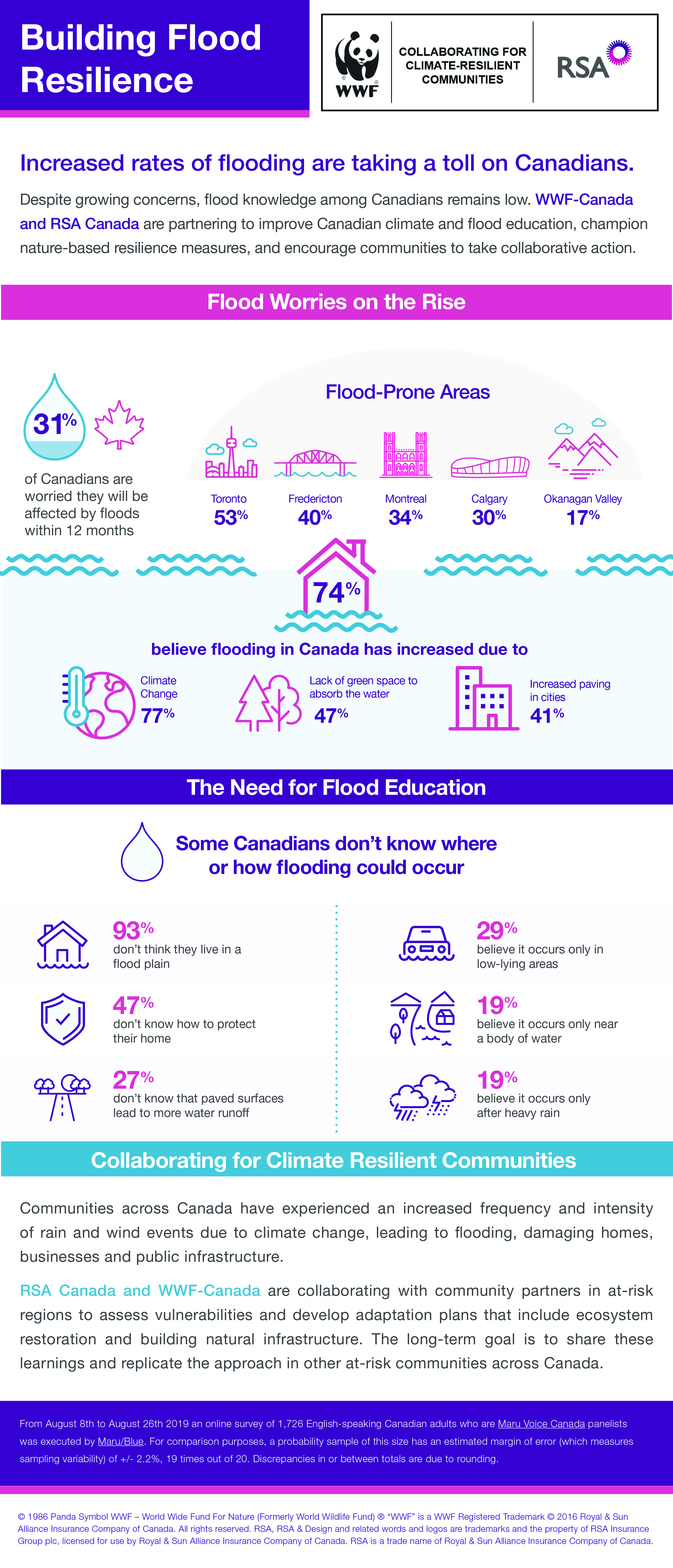 NEWS